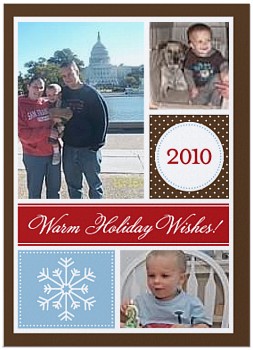 Seasonal Chic 2010 Christmas 5x7 folded card

Shutterfly is hosting another amazing promotion for bloggers! Check out this website for an explanation on how you can earn a $25 gift card for Shutterfly by sharing a photo card project!
This is the front of one of our holiday cards we sent out this year. Inside there is one more picture and a little letter recapping our year. This is the card we sent to people that we only communicate with at the holidays. I will post our other holiday card later with some funny pictures from our photo sessions...


This is yet one more reason that I love working with Shutterfly :)
For more Things I Love Thursday, check out The Diaper Diaries!